Thunderbird Turquoise Mine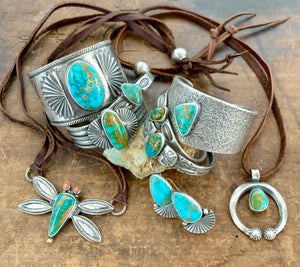 Twenty miles south of the iconic Lone Mtn. Turquoise Mine, nestled in unassuming hills, lies the Thunderbird 1 and Thunderbird 2 claims in Esmeralda, County Nevada.  Originally mined by J.D. Mauppin with a rented dozer, and the help of the Nevada turquoise legend, Lynn Otteson. The mine was worked for some time.  Like so many mines in Nevada, this early claim fell out of production following the boom and bust of the 1970s turquoise craze resulting in the claim to lapse. 
    Years later, Lynn drove his sons, Dean and Danny, out to the hills showing his boys where he and Mauppin once mined.  Danny, with his son Tristan, and the memory of his visit with his dad, went back out to take another look at what this early claim might have to offer.  Liking what they saw in the old diggings and carefully reading the geology, they re-staked the claim.  Like many turquoise mines through time, this claim needed a fresh start and a new name, Tristan came up with the Thunderbird 1 and Thunderbird 2 claims.  Their work was about to begin. 
   Tristan and Danny explained that the turquoise formation has been hard to follow into the earth at times, citing shifts in the lead, the formation carrying the turquoise.  When they first started mining, blue green nuggets were discovered.  Exploring the area with some test pits, one area produced a little handful of high-grade nuggets with black web.  More of these nuggets have not been found.
    After much work and exploration, Tristan and Danny have been able to chase the turquoise down into a light-colored clay formation that has proven very fruitful.  Thunderbird, a true nugget mine, is producing an incredible variation of colorful web nuggets ranging from black web, to green web, to blue web, and even red web, with colors that even resemble the best Candelaria Turquoise.  Some of the nuggets discovered at Thunderbird have weighed over 2 pounds.
    As a community of turquoise lovers and collectors, we are all excited for Tristan and Danny to chase this turquoise.  They are on the lookout for the rarest of black web nuggets hoping to add to the small amount, 200-300 carats, discovered over the past years.  This summer we will celebrate the Otteson's hard work as we see the beauty of these precious stones mined by three generations of turquoise miners.  Thank you, Tristan and Danny Otteson, for taking the time to tell me and the Turquoise Insiders about your amazing mine and family history. 
Click here to see the Mines of Spring Collection featuring 
Leave a comment
Comments will be approved before showing up.
---
Also in News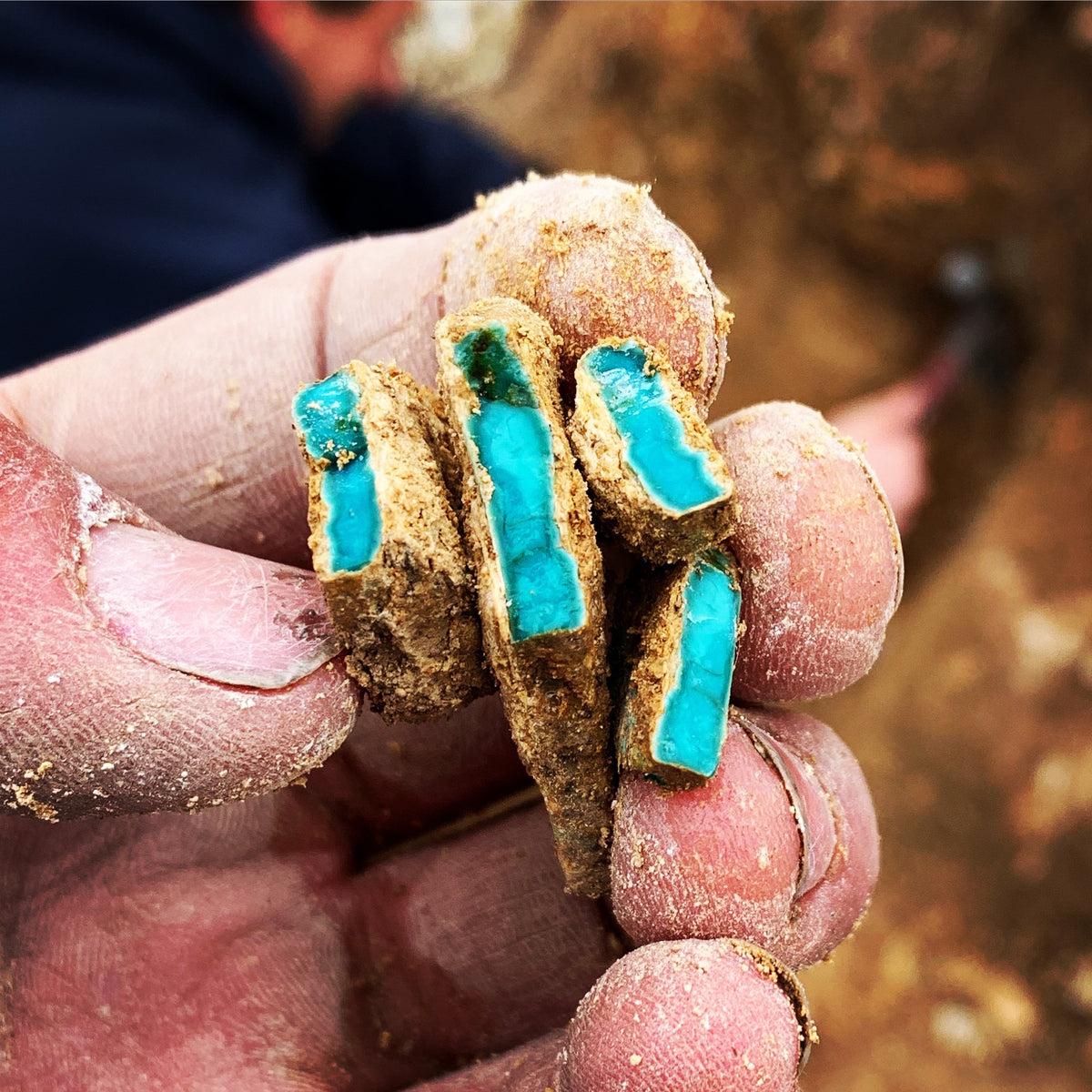 Yup, I go hard rock mining for fun...